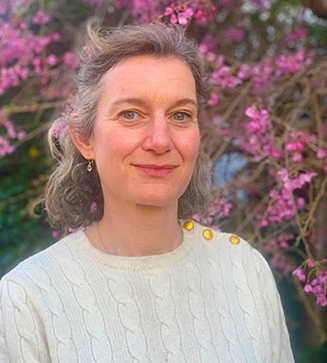 Sarah was an employment lawyer prior to retraining as a coach and has worked with law firms and individuals designing and delivering high quality and impactful coaching interventions for both individuals and groups.
In 2014 Sarah launched the Women in Law Leadership Programme at Cambridge Judge Business School for senior female lawyers. It was during her time in Cambridge that Sarah saw the transformative effect of coaching and has continued to develop leadership programmes for lawyers at all levels. She believes that a bespoke approach is especially important for coaches working with lawyers. She has developed a specialism in parental transition coaching – working with lawyers to explore their career path after becoming a parent.
Through coaching and group work, Sarah helps clients develop confidence, clarity and affect change. It's all about unlocking potential and achieving better balance. Her style is energetic and engaging but also provides challenge. Examples of Sarah's coaching work;
Achieving greater self-awareness and role satisfaction
Identifying and overcoming self-limiting beliefs
Career transition
Exploring strengths and areas for development
Developing a leadership style
Sarah lives in London with her three children, husband and cavapoo, Marley. She is a member of the Association for Coaching.
Professional Coach Recognition Programme (2019-2020)
Accreditation with the Association for Coaching (in progress)
Mental Health first aider
Fellow of the Higher Education Academy
"Sarah has been a fantastic coach. Mid-way through our coaching period, I changed roles within my organisation and the work I'd done with Sarah was key to me making that decision. Through her insightful questions and observations, she encouraged and enabled me to understand what I wanted to get out of my career and to move in that direction.

She was supportive and probing when necessary and asked very challenging questions to help me work through what I was thinking. I started our coaching relationship with a great sense of frustration and inertia, and Sarah helped to guide me through that sense of uncertainty and gave me a sense of what I needed to focus on to find a direction. Once I started my new role, I found myself incredibly busy and it was hard for me to find the time to attend coaching sessions – Sarah was incredibly patient and flexible, in terms of arranging sessions and re-arranging, and changing venues when necessary to accommodate sessions"
"At a time when I was considering changing role and a change of employer, I met with Sarah. I needed practical advice and a safe space to explore what I wanted from my career and address concerns about a new role. Sarah's background as a lawyer gave her a unique perspective into the issues I faced. I frequently reflect on the advice she gave. Sarah gave me the confidence and skills to tackle these issues. I highly recommend Sarah. She is an experienced coach who has practical skills and sensitivity to support you in achieving your career goals."